PVC Sheets
What is PVC plastic sheeting used for?
PVC sheeting features high-impact strength and resistance to most industrial chemicals. This versatile plastic offers excellent thermal and sound insulation, so it absorbs vibrations and oscillations. PVC plastic sheets are also easy to fabricate, glue, paint, and screen print. We currently offer gray and white sheets, as well as a wide range of sheet thicknesses and custom sizes to choose from.
TAP Video: What is foamed PVC?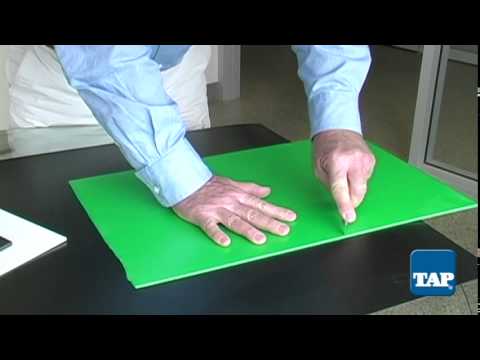 Custom Cut PVC Plastic Sheet Fabrication
Machining
Komatex® PVC foam sheets can be easily and quickly worked with the standard toolsused to process wood and metal. To prevent breaking and splitting, the tools must be sharp. Generally, you should use a high cutting speed and slow, continuous forward feed. Normally, it is not necessary to cool the cutting tools, but in special cases, compressed air is sufficient. Deep notches and sharp edges can cause premature breaking of the material if too much weight is placed on the affected area.
Forming
Deep-drawing and blowing of Komatex sheets is possible only to a limited extent. This is also true of bending and folding. The sheets can be deep-drawn, bent and, by warming, beveled under certain conditions. Deformations under thermal impact are possible to a limited degree (e.g., bending, beveling with notch, etc.)
Welding
Komatex can be welded by normal procedures, such as hot gas, heated tool, bending and welding, friction, etc., using common equipment. Before welding, the part of the sheet to be welded must be properly cleaned with a cleaning agent or by machining. After welding, finishing may be necessary. Komatex should be worked very carefully to ensure that the foam structure does not collapse.
Bonding
Komatex will accept most adhesives for rigid PVC. The sheet surface must be clean, dry and free of oil or grease. When choosing an adhesive, consider the strength required, the temperature the sheet will be exposed to, cure time and environmental safety.
When bonding Komatex to itself, the same solvent-type adhesives used for rigid PVC will provide excellent results. We recommend Lord and IPS Weld-on products for most applications in which bonding to Komacel or another substrate is required. As always, we suggest a test piece prior to full production.
Painting and Screen Printing
Komatex PVC Sheeting has a superior surface for screen printing. This method will give outstanding results with a crisp, clear, colorful finish. Paints also can be used to achieve similar results. No primers are required when using either method. UV, solvent-based and acrylic inks and paints can be used with Komatex to gain great results. To get proper adhesion, it is important that the sheets are clean and free of all dust, oils and grease before printing or painting. Isopropyl alcohol removes most foreign objects. Please consult your local distributor or ink manufacturer to find the best inks and paints to use with Komatex.
It is not recommended to laser cut Komatex.
PVC Sheets Characteristics and Benefits
Komatex is the product of choice for these application requirements:
Chemical and corrosion resistance
Moisture resistance, low water absorption
Low flammability (UL-940VO) – perfect for trade shows and exhibit halls
Thermal and sound insulation – absorbs vibrations and oscillations
Matte finish that readily accepts most inks, paints and vinyls
Easy fabrication with most common tools
Bonds easily to similar and various other substrates
Suitable for the majority of interior applications; can be use in limited exterior applications
Komatex® features a closed-cell, matte-finish surface with a fine cell structure. It will fit the requirements for a multitude of applications, from substrates for graphics, point-of-purchase displays and backers for channel letters to wood replacement. Experience has shown that Komatex is the highest-quality PVC sheet available.
Komatex sheets are not harmful to human health or the environment in manufacturing, applications or disposal. Komatex is free of lead, cadmium and barium. All Kommerling products comply with national and international regulations relating to the environment.
Applications:
Substrate for signs – easily screen printed, painted, laminated; ideal for vinyl letter application
Exhibit and trade-show booths
Point-of-purchase and 3D displays
Photo mounting
Arts and crafts
Dimensional lettering
Marine
Refrigeration
Vehicle manufacturing
Theater and stage sets
Models, architectural prototypes
Wood replacement
More About PVC Plastic
Polyvinyl chloride (PVC) is one of the most widely used plastics in the world. This industrial plastic is often used to make chemical storage tanks, oil tanks, and photographic developing instruments. If you would like to build a greenhouse or winterize your windows, look no further than our PVC sheet selection. We offer PVC plastic sheets in a wide variety of sizes, colors, and thicknesses. Give your PVC project the finished look you desire by requesting holes, radius corners, and routed or rounded edges. The practical applications of PVC are endless.
PVC foam sheet is one of the oldest and most developed synthetic materials, suitable for a virtually unlimited range of applications. For more than 100 years, Kommerling has been dedicated to developing PVC, specifically to manufacturing high-quality profiles and sheeting from rigid foamed PVC.