Auto Tint Window Films
Tired of sitting in the hot seat all day? Our non-reflective Auto-Tint films block 99% of the sun's UV rays, reducing heat, glare, and fading/cracking of interior upholstery in your car, truck or RV.
Unlike pre-packaged do-it-yourself film, TAP auto tint is strictly professional grade:
Scratch-resistant
Non-reflective
Resists fading (turning purple)
Resists bubbling (due to breakdown of adhesive)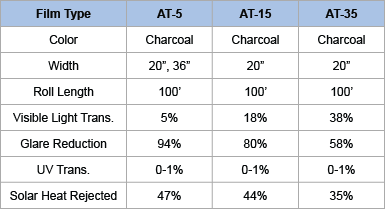 Material will be shipped as one continuous length.
Why buy TAP Auto Window Tint Film?
Need more information on window films
click here.
Click here
for Auto Tint Window Film installation (Product Bulletin 8)