Custom AC Window Vent Insert
How to Measure Your Window Vent Dimensions
Step 1: Determine the size of the insert. Inserts may replace the entire window or just a section.
For a casement, hopper, or awning window (opens out) full window replacement is required. To determine the size of the vent insert, measure the screen.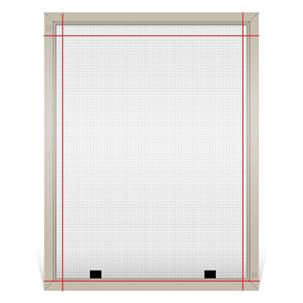 Screens are often not square, so measure the top and bottom, left and right sides. If the measurements are more than ¼" different, add the two measurements and divide by 2. If the screen has a lip, make sure to measure the outermost edge of the screen.
For a partial window insert for a sliding window, find the height by measuring from inside the top track to the window frame edge on the bottom. It is important not to measure inside the track at the bottom or your piece will be too big to fit in the window. The minimum width is 10 inches for a 4-inch vent and 12 inches for a 6-inch vent.
For a partial window insert for a single or double hung window, find the width by measuring from inside the left track to the window frame edge at the right. It is important not to measure inside the right track or your piece will be too big to fit in the window. The minimum height is 10 inches for a 4-inch vent and 12 inches for a 6-inch vent.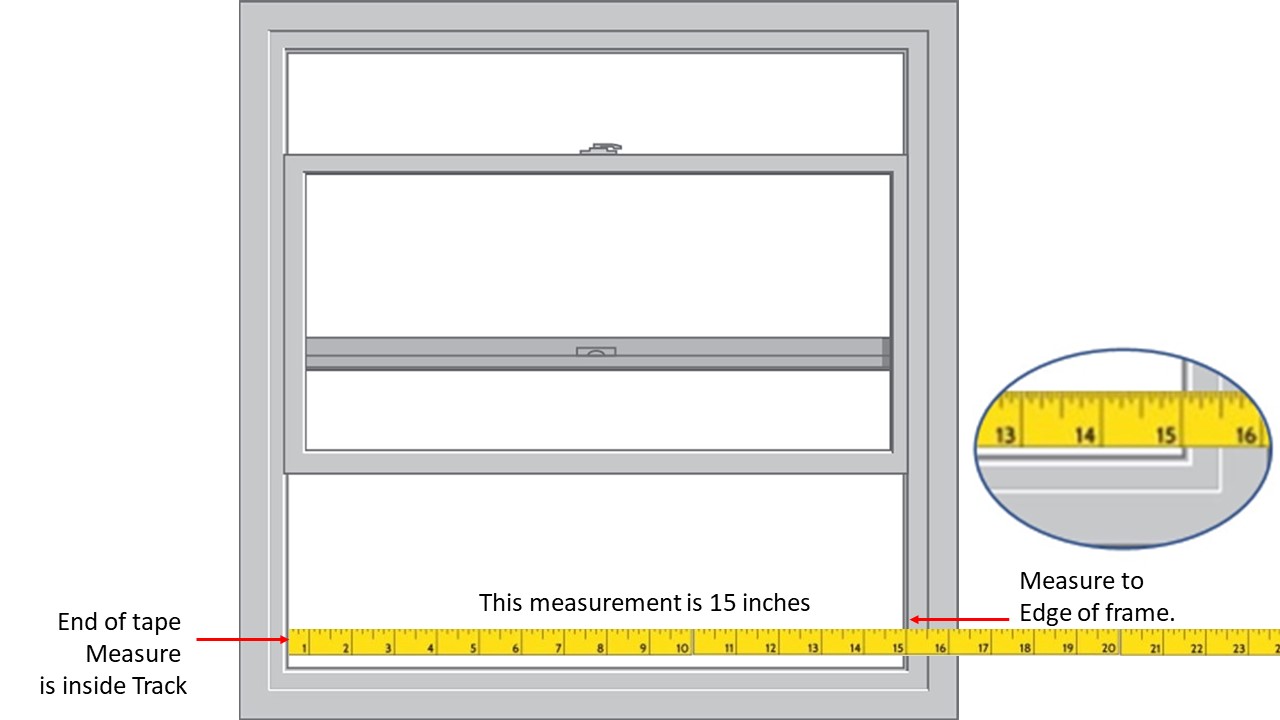 Step 2: Determine the size and shape of the connector. They come in many shapes and sizes. If your order is to be shipped, only 4-inch and 6-inch circles are available. You can easily replace the manufacturer's adaptor with a standard 4-inch or 6-inch circular adaptor. If you are picking up from your local store, they can work with you on unique shaped adaptors. The physical adaptor will have to be provided as there are hundreds of different adaptors out there, many of which look very similar.
For circle adaptors, determine the diameter of the hose for the cutout. Measure outer edge to outer edge of the hose.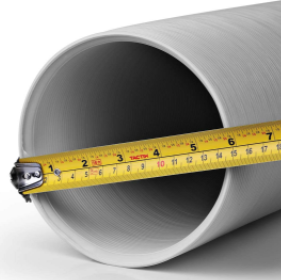 Step 3: The cutout will be placed 3" in and 3" up (measured from the edge of the cutout) to maintain structural integrity. If you require a different placement, please make a note in Additional Instructions when completing your order.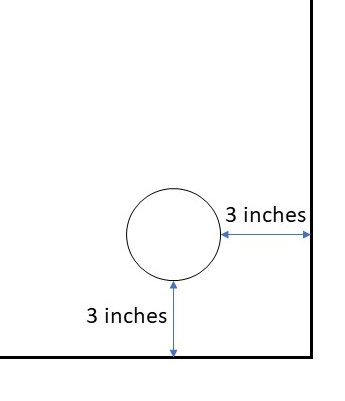 Step 4: Submit. Your order will be reviewed and you will be contacted for payment. All window vents are made to order and will take at least 2 days to complete. Up to 7 days during the Summer months.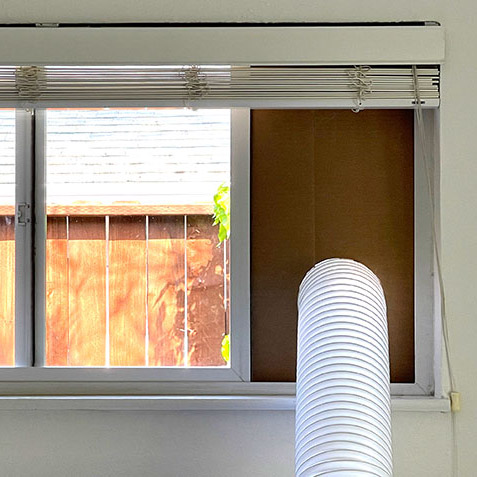 Replace this....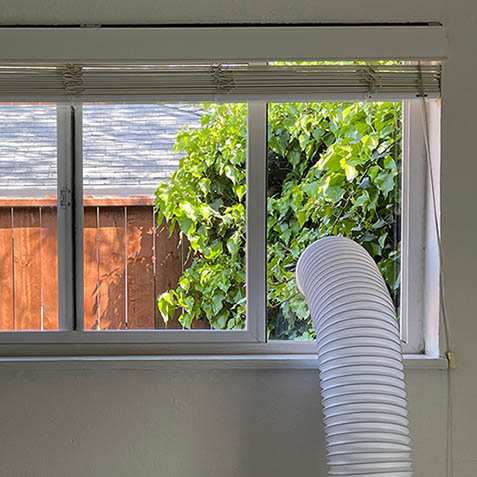 With this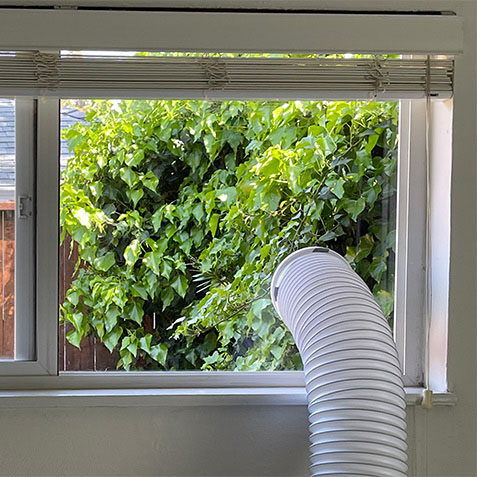 or this!
Made-to-Order Custom Portable Air Conditioner Window Vents
Venting your portable air conditioner is the most important thing you can do to make sure it functions properly. While most AC window inserts are generic with few options, TAP Plastics is able to fabricate a custom window insert from a large selection of our plastic sheets designed to fit your window and vent adapter. TAP will help you create the perfect AC window vent for your home!
Custom Plastic Window Vent Insert Available in Clear, Translucent, and Opaque Options
Polycarbonate comes in clear and white. It is lightweight and virtually unbreakable. Clear polycarbonate has high clarity and light transmission with a UV protective layer.
P95 Acrylic comes in clear, black, and white. It has a matte finish on one side that reduces reflected light. The other side is glossy. Clear is translucent which obscures objects behind it, yet lets light through. Black and white are opaque and do not allow light transmission.
Colors are available in acrylic (aka plexiglass) upon request, both translucent and opaque.
Our Experienced / Extensive Fabrication Services
TAP Plastics has been making custom fabricated items for our customers since 1952. We have skilled fabricators who are able to turn your ideas and designs into reality. TAP employees are knowledgeable problem solvers, eager to help you with your project.
Order Customized AC Window Vent Inserts
TAP now carries polycarbonate and acrylic plexiglass portable air conditioner window inserts! Our window AC exhaust vents are available in ⅛ inch and ¼ inch thicknesses and can be cut to your specifications.
Polycarbonate is a great choice for clear window ventilation because of its impact resistance, insulating properties, and high resistance to heat and fire. Plexiglass may be used if you are looking for privacy or to block outside light, however, it will not offer the same durability as polycarbonate.
We can make almost any size vent to pair perfectly with your existing window exhaust kit. Our custom window inserts for exhaust venting can be made with 4-inch and 6-inch vent openings. Custom shapes are available if you are near a TAP Plastics store and can provide your AC vent adaptor. Or you can easily replace the manufacturer's adaptor with a standard 4" or 6" circular adaptor. If you have a model that has dual vent hoses, we can add a second hole too.
What is a window venting kit?
Portable air conditioners are self-contained cooling systems that typically sit on the floor and vent outside via a portable air conditioner vent kit. Portable air conditioning units are preferred by people who want to be able to move the unit to different rooms, have windows too small for a window unit, or are looking for an efficient way to cool an area without requiring permanent installation.
Venting a portable air conditioner is necessary because the AC unit works by extracting heat from the air, and without an external vent, the room will not be cooled. A window exhaust kit is required to efficiently cool your home or office. While most portable air conditioner replacement window exhaust kits are opaque, TAP offers a clear AC window insert to minimize the loss of natural light and outdoor views. A typical window air conditioner frame kit is not aesthetically pleasing, but swapping out the insert in your portable AC vent kit for TAP's clear polycarbonate panel eliminates this issue.
How to install a window vent kit
Installing your new AC window vent insert is easy and can be done in under 15 minutes. For partial window kits, simply open your window and place your custom clear window insert in the window frame. Add foam insulation tape around the edges if desired. Close the window part way to secure the panel in place, and attach the hose to the window vent insert.
For full window kits we recommend you install the insert with Velcro and attach it to the frame of the window. Foam or rubber weather stripping to fill in any gaps between the frame and plastic also works very well for installation. Attach the hose to the window vent insert.
Once your AC window insert is installed and connected to the hose, you can resume use of your AC unit.