TAP Plastics: SACRAMENTO, CA: AUBURN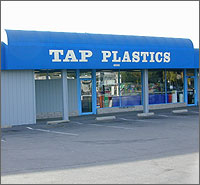 Manager: Kim Lee
Kim has been with TAP since August 2007.
While I was restoring a family heirloom, I realized I needed a good piece of plastic for the cover. Travis Santos, at TAP Plastics, was accommodating and very professional. I felt at ease the minute I arrived, and he was able to cut the piece I needed while I waited. It fit perfectly, and my heirloom looks terrific. I highly recommend TAP Plastics for their friendly staff, excellent products, and fast service.
Yelp review from Peggy R.
Sacramento, CA
May 1, 2019