Acrylic Clear OP-3 Ultraviolet (UV) Filtering
Cut to size orders are cut with table and CNC panel saws and have a cut tolerance of +/- .060". Plastic sheets have a thickness tolerance of +/- 10% and can have thickness variations throughout the sheet. Cut to size items cannot be returned for a refund or exchange.
Sheet sizes, colors, thicknesses and products available on our website are just a fraction of what's available at TAP Plastics stores.
Cut to size orders are currently taking 1 to 2 days (M-F) to process.
Visit your local TAP Plastics store where cut-to-size orders often take less than five minutes, start to finish.
Acrylite OP-3 is designed to meet the unique needs of picture framers, museums, and artists. OP-3 protects artwork and documents from harmful ultraviolet light (UV), which is the primary cause of fading and degradation. Since OP-3 is acrylic, it is more evident and more impact resistant than glass and fabricates with the ease of acrylic. OP-3 is available with an abrasion resistant surface on one side (AR1). It is ideal for high traffic areas.
Sources of UV Light
Sunlight naturally emits UV light, which Acrylite OP-3 is made to filter. About 6% of sunlight is UV energy ranging between 320 and 380 nm. UV light is also emitted by artificial lighting including halogen and fluorescent lighting.
The following graph shows the light transmission properties of Acrylite Clear OP-3 UV filtering sheets, general purpose acrylic plexiglass, and gloat glass. While general purpose plexiglass and float glass filter out only a small amount of UV light, Acrylite OP-3 filters out approximately 98% of UV light. A further shift of the ACRYLITE® UV filtering sheet curve to the right would cause absorption of blue visible light and cause a yellowish appearance of the framed object.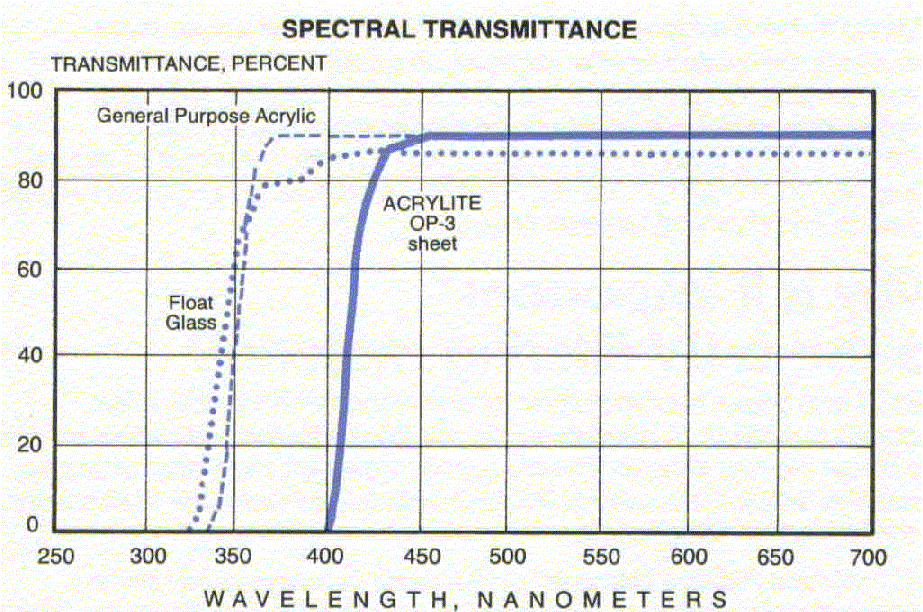 TAP Video: What is OP-3 Acrylic Sheet?
TAP Video: How to bend plastic sheet
TAP Video: How to cut plastic sheet
TAP Video: How to glue with acrylic
TAP Video: How to build a box with plastic
TAP Video: How to polish and shape plastic
TAP Video: How to polish and repair scratches