Acrylic Mirror Sheets
What is acrylic mirror?
Acrylic mirror is a safe, lightweight alternative to glass mirror. It isn't as rigid as glass and can easily be distorted if not mounted in a rigid frame or flat backing.
Wherever glass may crack or shatter, acrylic is an excellent alternative. At TAP Plastics, we fully support the DIY concept at every step as well as for industry professionals that demand nothing but the best materials. We happily provide mirror acrylic sheets that are perfect for use in decorative displays as well as outdoor applications. Mirrored acrylic is only half the weight of glass yet many times more resistant to breakage and impact. Best of all, acrylic mirrors can be easily cut or shaped to fit a frame and any particular set of needs. Whether cut, drilled, shaped, or bent with a strip heater, we know you won't be disappointed when choosing an acrylic mirror for your next project.
No matter what kind of project awaits you, we have all your needs covered in our acrylic mirror sheet collection. Each crystal-clear sheet can be customized by thickness, width, and length. Plus, we offer routed edges, rounded edges, radius corners, and holes for an additional cost.
Mirrored acrylic uses and applications
Acrylic is the preferred choice of hobbyists and professionals for applications in which glass is susceptible to cracking or shattering. Use as you would use a glass mirror in any application!
Properties of Two-Way Mirrored Acrylic:
Sometimes called see-through, surveillance, transparent or one-way mirror.
1/8" or 3/16" Mirror-Grade Acrylic coated on one side with Aluminum Oxide
Looks like a normal mirror from the well-lit "lighted" side and see-thru tinted window from the side with little or no light.
See-through mirror has a light transmission range of 5 to 20%.
The reflectance of the see-through mirror is 60 to 75% see-through.
Many uses such as showroom surveillance from a darkened office, hidden cameras, hiding a flat-screen TV, Infinity Light Boxes.
Not for use with high humidity or contact with water.
Two-way acrylic mirrors are ideal for commercial surveillance, creating smart mirrors, hiding televisions, or reinforcing home security. There are a broad variety of applications and benefits to be had by choosing mirrored acrylic sheeting for your next project. Whether recording through, creating a photo booth, or protecting your valuables at home, we can help you achieve your goals. You can also customize our two-way mirrored acrylic to suit any specific application or project by selecting the best thickness, width, and length. We also offer routed edges, radius corners, and an array of hole sizes for an additional cost. Cut-to-size requests can take one to two business days to process, but you can visit one of our 20 store locations to receive your order in less than five minutes from start to finish.
Warning: Adhesive tapes and masking will remove the reflective metal coating from the surface of the mirror when removed.
Acrylic mirror colors, features and benefits
Colored Mirror Acrylic. Our color acrylic mirror sheet is made from OPTIX® continuously processed acrylic. It uses vacuum metalizing, and each sheet is given a mirror finish that is protected by the industry's toughest, most durable backing. An overage of 1" is provided on standard sheet sizes for maximum yield when a 3-mil laser cuttable film covers laser cutting and all mirror acrylic colored sheets. Available in blue, gray, gold, red, bronze, and green.
Benefits of using colored mirror acrylic:
Elegant and trendy look.
Contemporary and refined color ideal for retail point of purchase, consumer goods, and jewelry fabrication.
Easy fabrication and fitting.
Indoor use
How to install acrylic mirror sheets
Installation Guide (PDF)
TAP Video: How to Install an Acrylic Mirror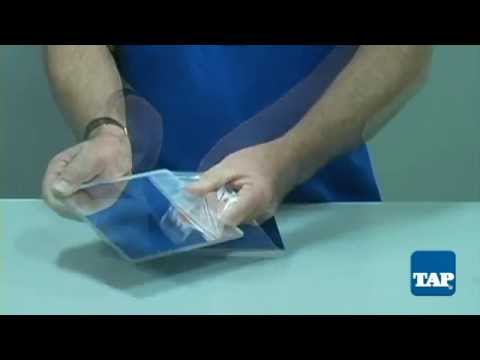 Acrylic mirror has many advantages over glass. It is 1/2 the weight and many times more break resistant. It can be easily cut or shaped to fit a frame. In appearance, an acrylic mirror is indistinguishable from glass. But, it must be mounted properly.
Since the mirrored acrylic is somewhat flexible, it can, in time, conform to the irregularities of the supporting surface. A non-smooth, non-planar surface will cause localized bending of the mirrored sheet and distortion in the reflected image. Visual distortion is also a function of viewing distance and material thickness. Thicker acrylic is less flexible and therefore maintains better optical integrity. Correct installation and sufficient material thickness can reduce visual distortion but may not completely eliminate it.
For best results, mirrored sheets should be mounted to a smooth, rigid, sturdy flat backing such as 5/8" or 3/4" MDF, medium-density fiberboard, or equally flat surface. Surface should be clean, dry and free of any flaking or powdery paint .
Ceiling and overhead installations are not recommended unless the mirrored acrylic is mounted in edge-engaging frames such as T-bar suspended ceiling frames or mechanical mounting.
Mirrored acrylic has a reflective film applied to the backside of the acrylic . Paint is then applied to protect the reflective surface. Use only adhesives designed for acrylic mirrors. Adhesives with solvents of 5% or more are not recommended. Since numerous adhesives, cements, and mastics are available, they should be tested on expendable pieces prior to application. All tests should be applied at least 72 hours in advance to determine compatibility to the back coat, the reflective coating and the acrylic itself.
Apply adhesive in vertical beads of 5-6" apart, starting about 3" from the edge. Mount mirror within 10 minutes of applying adhesive. Support the mirror mechanically (mirror clips, etc.) until adhesive dries. Do not apply adhesive if temperature is below 60º F. Read and follow adhesive instructions carefully. Clean mirror with a microfiber cloth and soapy water.