TAP Article: DIY Plastic Kitchen Items
Many features and characteristics make some plastics a popular choice for kitchen applications like HDPE for cutting boards and acrylic for displays and cabinet doors. The first thing to investigate will be what material to use for your project. Many thermoplastic materials can withstand limited cold, but the material may also contract or expand. Thermoplastics can also be bent, cut, glued, polished, and thermoformed to create something utterly unique for the home. We gathered some of the most exciting DIY plastic kitchen items we could find to inspire you for your next DIY plastic project. With a little creativity and a lot of technical know-how, you can make plastic an invaluable addition to your kitchen setup. Check out our favorite ideas and examples!

DIY Plastic Kitchen Items to Try!

Cabinet Doors
Any savvy DIY person can add transparent or translucent doors to existing shelves to give them an updated look without paying a premium. Acrylic is half the weight and seventeen times more impact resistant than glass at the same thickness. Clear polycarbonate sheets are approximately 250 times more impact resistant than glass. Both acrylic and polycarbonate can address many of the drawbacks that most people face while shopping for glass: clarity, cost, fabrication, light transmission, and weight. We can also help by cutting the piece to shape or drilling holes for hinges. Just provide us with a full-size template or drawing, the hinges you would like to use and the location of the hinge on the sheet. You can also purchase a drill bit from TAP and our materials about working with acrylic.
Also, check out our video about TAP Drill Bits.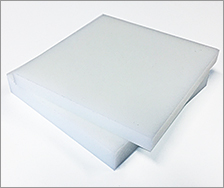 Cutting Board
Tired of how much time it takes to clean up after every meal? Make meal preparation more enjoyable than ever before by designing your built-in cutting board that fits on the inside edge of your sink with a hole cut to your specifications allowing you to increase your workspace while still having access to the sink. Then you can scrape any unwanted scraps into the basin. Different size holes can be cut into the board for specialized use like holding eggs or pitting cherries. Big cutting boards are heavy and bulky, making them difficult to store if you have limited kitchen space. You can solve the storage problem by finding an area that is perfect and taking measurements of that space. Bring those measurements to TAP to have your custom cutting board cut while you wait, or a few customized holes, corners or edge finish may take more time. High-density polyethylene (HDPE) sheet is food-safe and well-suited to food applications. Some kitchens have an old wooden cutting board that pulls out from the cabinet. You can bring this entire piece into a TAP store to see if you can have it recreated out of durable cutting board material. TAP also offers a thinner and flexible cutting surface that comes in many different colors. Cutting meats can be more sanitary by color coding these HDPE sheets for Meat, fish, poultry, and vegetables. Cut veggies go into the stock pot easier when you can curl up the material to direct your pieces where you want them to go with our 1/32" (.030") thick HDPE sheets. Pair up your favorite colors to match decor or your favorite sports team.

Food Bin Labels
Acrylic sheet P95 with a matte black finish looks a lot like chalkboard material at first glance, but our customers have used ACRYLITE sheet to label food bins and food storage compartments. Also, perfect for store displays or directional signage. Just cut the matte black acrylic sheet to size or submit your cut-to-size request at one of our store locations by emailing the size and material you would like or stopping into one of our stores. Sand the edges and soften the corners to make custom signage for baskets, bins, and so much more. You can even label your food using chalk pens, inks, or paints. The P-95 matte finish comes on white, black, clear, and green edge. You can use a pencil to mark this frosted material. Even underwater!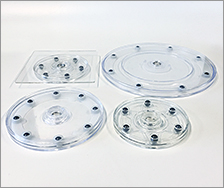 Lazy Susan
One of the best things about having a Lazy Susan is just how versatile it is. You can use our clear, revolving polystyrene turntables to create a multi-tiered Lazy Susan for your cabinet, countertop, or fridge and you can even use a Lazy Susan to organize craft supplies or household cleaning products. Use double sided tape to stick down any containers to the base, and you can have all your small tools at a glance and within reach. Our plastic display bases range from 4 to 9 inches. We can also customize many of the plastic products we supply with rounded edges or radius corners to suit your needs.

Recipe Book Stand
Wouldn't it be helpful to prep for a recipe without having to hold the cookbook? You can easily create a book stand that can protect your cookbook. Our clear acrylic shelves come in several sizes and are perfect for holding recipe books. Alternatively, you can bend any plastic sheet to create a lip and add holes to attach it anywhere. Just find the best spot in your kitchen and mount! If you don't have enough space to install shelving, you can use one of our acrylic brochure holders instead.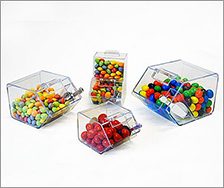 Snack Bin
Are snacks taking up all the room in your pantry or do you want to make it easier for your kids to find healthy things to eat? DIY plastic snack boxes are easy to make and extremely useful. We collaborated with a local client to create a tiered snack bin that incorporated three bends, capped sides, and hinged lids. We then welded a Z lock to custom-fit the snack bin to a metal slat wall for ease of access. We also offer clear plastic boxes in an array of shapes and sizes.

Spice Rack
Cut down on kitchen clutter by designing your acrylic spice rack. A DIY spice rack will help you keep the spices you use organized and out of the way yet still within reach while you are whipping up a favorite recipe. We supply clear acrylic shelves that can be fastened right to the wall for easy access. You can also customize the shelving from scratch by utilizing our cut-to-size plastic services.

If you can, please provide a picture or drawing of what you want. That will help our salespeople can help you figure out what you need.

Utensil Organizers
Don't let the heart of your home get buried beneath ladles, spatulas, and whisks. You can easily create an organizational tray to hold all your utensils with thermoplastic materials. Our selection of crystal-clear acrylic sheets provides plenty of options for building your utensil tray, and you can even attach separate plastic compartments using cement, adhesive, epoxy, or another bonding agent depending on the materials being used. TAP can also fabricate acrylic organizers in store.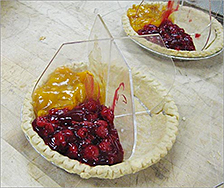 Hopefully, these DIY plastic kitchen items give you inspiration for your own home and provide insight into the many ways that plastic can be used to the benefit of any tight space. TAP Plastics offers the largest online selection of plastic sheets, rods, tubes, circles, and other shapes as well as handles, hangers, hinges, latches, and locks. No matter what kind of DIY project you have on the horizon, we can help you find the best product for your specific application. Please feel free to contact us or come into a store with any questions about this article or our product selection today.