TAP Article: DIY Gardening Pots and Stands
Gardening is an activity enjoyed by millions of people throughout the world. When you are in the garden, it's difficult not to become overjoyed by the beauty of nature and your surroundings. Planters and flower pots can add a tremendous amount of charm to any gardening space. If your old terra cotta pots have become boring and you would like to give your garden a fresh look, you can breathe new life back into your favorite plants by building planters and flower pots with plastic materials. We rounded up some incredible DIY gardening pots and stands to help you find the inspiration for your garden project. Check out these fun and unique ways to transform plastic materials into garden treasures.

DIY Gardening Pots and Stands
There are so many ways you can use plastic materials in the garden. We rounded up some of the most ingenious ideas we could find, all of which can be recreated by using acrylic, fiberglass, or thermoplastics.

A-Frame Planters
Running out of room for your houseplants? An A-frame plant stand will provide the space needed to keep your plant collection growing. Though most A-frame plant stands are made of wood, you can just as easily build your plant stand from scratch with plastic resins. Unlike wood and other building materials, thermoplastics are highly resistant to corrosion and weathering. You can use cut-to-size plastic or acrylic sheets to serve as the flat surfaces between each level of your DIY plant stand. You can use acrylic rods or acrylic tubing to create the A-frame. Directly connect the plastic pieces of the frame via solvent bonding, welding, or mechanical fastening.

Floating Plant Pedestals
Is there a particular spot on the side of your home that receives optimal light for photosynthesis? Ditch the traditional window box idea and opt for something out of the ordinary. Floating plant pedestals are great for anyone who has limited light or space to work with, especially if you live in an apartment. Best of all, you can add a bit of greenery to the overall shape and style of your home. You can quickly build your plant pedestals using 1" acrylic sheet that is cut with radius corners. You can use acrylic rods as the pegs to support the weight of your vertical gardening display.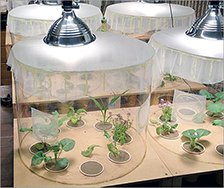 Plant Terrariums
Although they don't look like any gardening pot you might recognize, terrariums are great for helping little sprouts grow and get the best start in life. You can easily make your plant terrarium with polycarbonate sheeting. Polycarbonate can be cut using most motorized saws with special blades, routed, sheared, die cut, and drilled to create something utterly unique for an indoor garden. One customer used our 1/32" polycarbonate sheet to design an observation cage for a host-plant selection experiment, with formed polycarbonate to create the side walls of the cage and the perimeter of the fitted lid on top.

When it comes to choosing the best material for your DIY terrarium, anything is better than glass. Acrylic, for example, cannot be easily broken or damaged in harsh conditions. Acrylic sheet is also less than half the weight of glass but many times stronger and more resistant. Just like us, plants need to protect themselves from potentially harmful ultraviolet rays. UV-filtering acrylic sheet absorbs more than 98% of UV radiation below 400 nanometers.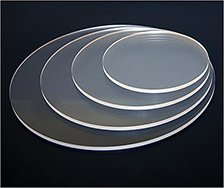 Plant Wreaths
The possibilities of vertical gardening are endless, primarily when you use thermoplastic materials to make your plant display pop. We offer acrylic circles up to 24" in diameter in two different thicknesses (0.118" and 0.236"). You can use an acrylic circle as the backdrop of your plant wreath. Alternatively, you can use an acrylic bar or rod to create a hollow frame for your wreath. You can custom cut any of the rods or tubes in our selection to create the perfect support rings for your potted plants. There are a wide variety of adhesives you can use to bond thermoplastics together, depending on the substrate you choose.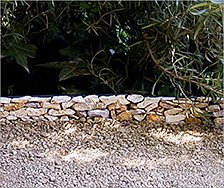 Rock Retaining Walls
Garden rock walls can add both beauty and a sense of structure to any garden as well as a way to house alpine plants, succulents, and herbs. Start by collecting the kind of stones you would like to use in building your rock retaining wall. Carefully place those rocks facedown into a mold made of high-density polyethylene (HDPE). You can build an HDPE mold using strips of 1" HDPE cutting board. Hold the rocks together by packing epoxy clay along the backside of the rock wall. Once the rock wall has cured, you will have created a beautiful contrast to the lush greenery of your garden. (Need a back to the mold and how to fasten the sides to the back. The entire face of the mold needs to be covered with rocks due to epoxy not being UV resistant.)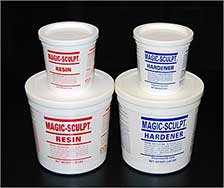 Statuesque Plant Stands
Could your garden use an extra touch of personality? A standing plant pedestal is sure to draw attention, but a plant pedestal fashioned into a statue is sure to demand a double take. You can create any statue under the sun as long as you have the right materials on hand. Magic Sculpt, for example, is a two-component epoxy that allows you to create highly detailed sculptures. We offer a wide variety of sculpting compounds and modeling materials.

Hopefully, this list of DIY gardening pots and stands has inspired you to put that green thumb to the test. If you are trying to start an organic garden, we recommend that you avoid using polyvinyl chloride (PVC), polystyrene (PS), and any plastic resins that may contain hormone disrupters, such as polycarbonate (PC). At TAP Plastics, we offer a wide range of plastic products that can help you turn your vision into a reality. Please feel free to contact us if you have any questions about our products or possible applications.