Mold Making Guide - One Part Molding
One Part Molding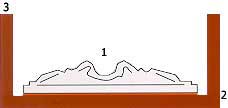 Preparing the Mold
1- Model
2- Base
3- Frame
4- RTV (membrane thickness 20-50mm according to the shape of the model and RTV2 properties)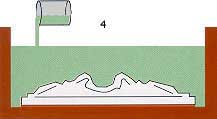 Processing the RTV
Prior degassing of the catalysed mixture enables air bubbles to be eliminated. If degassing is not possible, it is recommended to apply a first coat to the model using a brush in the order to avoid the risk of bubbles on the surface. We can then proceed pouring to a slow trickle at the lowest point of the mold.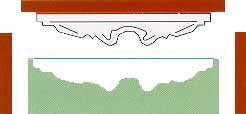 Demolding
The demolding time is variable as a function of the choice of the product and the temperature. As a general rule, it is recommended to demold after 24 H at 25°C.
Reproduction of the Model
There is a large choice of reproduction materials. As for RTV2's care must be taken concerning the risk of air bubbles, notably by pouring the materials slowly into the lowest part of the mold.
One Part Block Molding
Two Part Block Molding
One Part Skin Molding
Two Part Skin Molding
One Side Impression Molding (Brush Molding)
Two Part Impression Molding (Brush Molding)