U.S. Iowa Class Battleship Model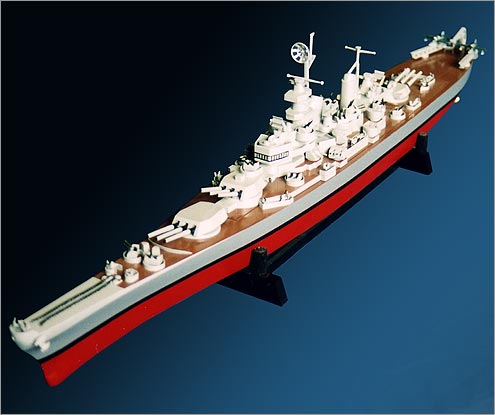 Walter Berggren of Walt's Workshop created this 1:280 scale replica of a United States Iowa Class Battleship using primarily TAP products. This 38" model is made with TAP Marine Grade Epoxy System 314 Resin Side A and 102 Fast B-Side, TAP Premium Pigments, Chemco Transparent Dyes, Deck Cloth, TAP PVA Mold Release Liquid and TAP Silicone RTV Mold-Making System.

This scale model of the Iowa Class Battleship makes a great mantelpiece display model, and can also be outfitted to run in a swimming pool via radio control. This model is configured with World War Two-era equipment. Heavily armed with nine 16" main guns in three turrets, twenty 5-inch guns in ten turrets, and eighty 40mm AA guns arranged in twenty armored positions around the ship, the Iowa Class Battleships were the last and fastest battleships constructed by the U.S.

If you're interested in purchasing this piece, you can call Walt at (408) 295-9606 or email rcflight@primenet.com. You can check out Walt's other work at https://www.mindspring.com/~rcflight/www/index.html.