Same Day Delivery available using Roadie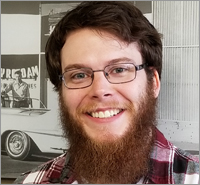 Acting Manager: Ben Brown
Ben has been with TAP since March 2019.
___________________________________________
I took a boat hatch frame to a glass shop (White Center Glass) who kept it for four days before letting me know they didn't have the material to replace it with, and it would take up to a week to get a quote from their supplier. I picked it up and drove to Tap Plastic (South Lake Union), where they had great advice on options (poly carb vs. acrylic). They even showed me how acrylic could be buffed to remove scratches; then they cut the 1/2" acrylic while I waited. Very good customer service, I'll return there for all my boat projects.
Yelp review from Jim S.
Seattle, WA
December 19, 2020

TAP Plastics Store Locations
TAP Plastics has 17 stores located in California, Oregon, and Washington
Memorial Day Monday, May 30 - Most stores Open 9:00-5:00 (San Leandro, Pleasanton, San Rafael, Tigard, Bellevue, Seattle and Lynnwood will be CLOSED)