TAP Article: DIY Restaurant Food Showcase Ideas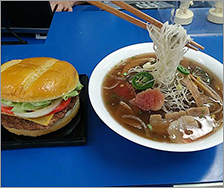 Our Bellevue, WA customer (Seattle Food Model) made this cheeseburger from our RTV urethane mold making system! They made the noodle dish using our RTV urethane and our casting resin. Those "noodles" are made from our 1/6" clear acrylic rod, and all of the colorings was done using an airbrush.


Anyone who works in food and hospitality can tell you that presentation is everything. Both imitation and real food displays have a number of practical purposes for bakeries, restaurants, sandwich shops, and supermarkets. Not only do food display cases showcase your food but they also increase the chance of an impulse sale. There are many ways you can incorporate a food display case into your restaurant. We gathered some great ideas and created a step-by-step guide to show you all the possibilities of merchandising your food.

DIY Restaurant Food Showcase Ideas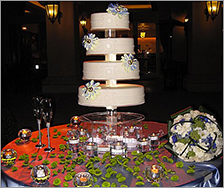 Cake Stand: Whether you run a busy bakery or you specialize in wedding cakes, your customers will appreciate having a sneak preview of your delicious sweets. One customer created a floating, illuminated cake stand with tiers and bases made of clear acrylic cake circles and center support made of two pieces of acrylic tubing. FYI Not all pieces of tubing will fit together perfectly. There will be some tolerance in manufacturing as well as expansion and contraction from heat differences. You can even make a larger display stand for showcasing other baked goods by using our clear acrylic display risers or stands.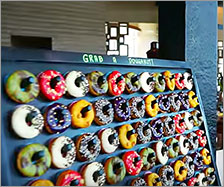 Donut Wall: Looking for a visually exciting way to display your delicious donuts? This tasty trend is popular with the wedding crowd, but you can just as easily design your DIY donut wall for your bakery or restaurant. You will want to use a food-safe plastic sheet, such as High-Density Polyethylene (HDPE), Polypropylene (PP), or Polystyrene (PS). For the donuts, you will want to use plastic rods or tubes. You can also add some vintage charm to your donut wall by accessorizing the donuts with paper doilies. If you are limited on space, you can still stick with the vertical display style by making a clear acrylic donut stand instead. These plastic projects work just as great for bagels, by the way!

Fake Food: Food models can undoubtedly look real enough to eat, and they are commonly used to entice customers to take a look at the menu. In Japan, plastic food replicas are ubiquitous and referred to as Samburu. Many of the miniature sculptures used in Japan are handmade. However, there are many techniques and materials you can use to create realistic food imitations. Magic Sculpt is perfect for this application.

Some artists make fake food by pouring rubber or foam into molds to set. TAP has mold making and casting materials.

Others spray shellac or other varnishes on real foods to make them suitable for long-term or permanent display. Check out our resin craft spray.

You can imitate green leafy vegetables with green fabric – spray the fabric with some resin spray to give the leaves some body. X-30 foam is a slam dunk for fake bread products and cakes. Once you have the perfect shape, coat the foam in diluted acrylic paint to achieve the right color and texture. Accessorize your fake cakes and other pastries with fake frosting made from a powdered or pre-mixed joint compound. One customer made fake food using an RTV urethane mold-making system, including a noodle dish made of clear acrylic rods. The possibilities are virtually endless!

How to Make a Food Display Case: TAP makes a perfect display case with a step base. The display can be a custom size to fit any space. Make a custom cutting board base for one of our AMAC Boxes. That will look very professional.

Give hungry customers a reason to come in and dine at your restaurant by making a simple food display case. You will need a piece of Starboard with a step cut into the outside edge. This will allow your cover to fit perfectly without moving around. You can bring the plate that you are using for the dish. Our sales team can measure the dish and ask a few questions about your project. Then they calculate a quote for your complete display. Usually in minutes! Keep in mind, based on our line of projects ahead of you it may take some time to have your project completed. It is always a good idea to call your local TAP store to check the lead-time on fabrications.

The size of your DIY restaurant food showcase will depend on how much food you want to display. Keep in mind that the food display case may need to be relocated in the future, so it should not be too tough to move. A 1' x 1' display case, for example, should provide enough space to store a small to medium size dish.

To see step by step instructions on how to build your cover click this link.

You can bring your cover to a TAP Plastics store and have a step base made to fit. If this is an odd shape, other than square or rectangle, you may want to make sure we can make the base before starting your project. Overall it is a good idea to do plenty of research before starting any fabrication. Generally, more planning and attention to detail will result in a more attractive finished piece.

This display box is one of many boxes made by TAP Plastics. We make many of these vitrines for museums and auctions houses as well.

Hopefully, these DIY restaurant food showcase ideas have given you inspiration for your project. You can find many of the materials needed to make food display cases at one of our store locations. Our friendly and knowledgeable plastic experts can point you in the right direction based on your particular set of needs. Let us know how we can help you turn your vision into reality! Please feel free to contact us with any questions or concerns.