Zombie Mask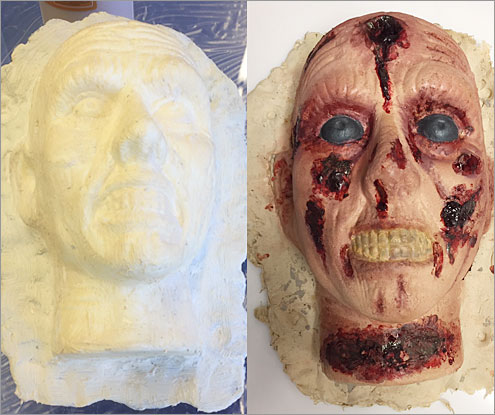 Our San Rafael manager, Kevin Babbidge and staff, created this zombie mask for a customer.

Products used: TAP Mold Release Wax, 1 quart of TAP Premium Liquid Latex Rubber, a box of 1 1/2" white bristle brushes, Jolly King Modeling Clay, Pol-Ease 2300 Mold Release Spray, TAP Surfboard Resin, 1.5 oz Glass Mat Fiberglass, TAP Quik-Cast, Gauze, and TAP X-30 Polyurethane Foam.

They used a styrofoam head as the base and applied clay over the head. The head was then thoroughly covered in release wax to help with the latex removal. Ten layers of liquid latex were applied over two days allowing at least an hour between coats. After the fifth layer, small strips of gauze were placed near the neck and forehead to give structure to the mold. When the last segment dried, Pol-Ease Release was sprayed to the outside of the image. Fiberglass mat was laid on the latex with our polyester Surfboard Resin as a mother mold to provide rigidity. After the fiberglass cured, the clay and styrofoam head were removed from the latex leaving the mold and mother mold. After using Pol-Ease Release on the inside of the mold, ten more layers of liquid latex were applied with an hour between each layer. Quickcast was then poured into the mask, continually turning the mask to create a thin layer, coating the inside of the mold. Once the QuickCast cured, it was backfilled with X-30 foam to give the mask firm support.

Makeup Artist Marisela Ramirez (www.makeupbymarisela.com) completed the mask with this fantastic zombie apocalypse look.