Train Models Wall Display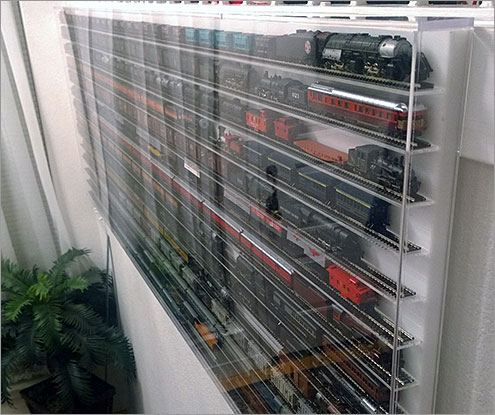 Longtime TAP Plastics customer Ralph Winkler worked with TAP San Leandro to custom fabricate three various wall displays for his N-Scale Trains. Model trains come in a variety of sizes known as scales. The scale is a ratio expressing the relationship of the model to its actual size counterpart. N-Scale is shown as 1:160 proportion. In other words, if you could take an N-Scale locomotive and enlarge it 160 times, you would have a full-size train.

Over the years Ralph has collected quite a number of these trains; when he realized the extent of his collection he considered donating them but his wife, wisely encouraged him to keep them and to have display cases fabricated to showcase them. Only one of the displays is featured here. Sign White Acrylic is the backing and 1/8 inch thick clear acrylic case fits over the back which has 1/8 inch thick acrylic shelves one inch wide. The case is approximately 23 inches tall, 72 inches wide, and the shelves have in inside dimension/spacing of 1.5 inches apart.