Exchange Portal Display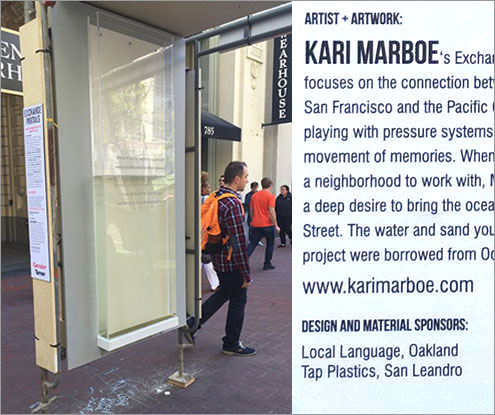 Kari Marboe – www.karimarboe.com is an artist living in Oakland, CA. Her practice plays with water, clay, rectangles and writing to discuss the storage of individual and public memories. She is currently a lecturer in Ceramics at California College of the Arts in Oakland www.cca.edu/academics/ceramics .

She recently worked with TAP San Leandro - she was on a quick timeline, so TAP San Leandro assisted by cutting to size her 3/8 Clear Acrylic and routed the edges so that she could weld her acrylic displays. She had assistance in welding her materials by Jordan Bunnell of www.locallanguageart.com

The project came to fruition as Kari was invited to a do an installation for the San Francisco Market Street Prototyping Festival 2015 – Exchange Portals. This was a temporary installation and collaboration between Gensler, Turner Construction and six Bay Area artists that experimented art in public space. The project centered around six temporary scaffolding structures, or portals, each interior of which showcased a new work of a Bay Area artist based on their choice of San Francisco neighborhoods. The outer walls of each portal provided a frame for engagement and public moments on a blackboard surface. The Gensler/Turner Construction Exchange Portals were placed on Market Street between 3rd and 4th in the Retail Heart section of the Festival. Kari Marboe's Exchange Portal utilized 3/8 Clear Acrylic from TAP San Leandro and focused on the connection between San Francisco and the Pacific Ocean by playing with pressure systems and the movement of memories. When picking out a neighborhood to work with, Marboe had a deep desire to bring the ocean to Market Street. The water and sand in her piece Ocean Beach Market Street were borrowed from Ocean Beach.