Paramount Theatre Sign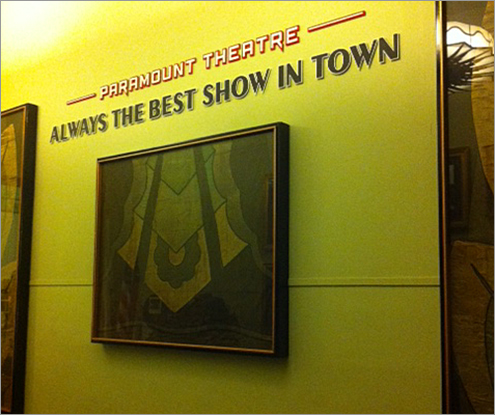 The Paramount Theatre in Oakland had some empty wall space that needed to be filled. David Boysel came to TAP Plastics for some help. We were able to provide him with custom laser cut letters. Here is what he wrote about the project.

"I have filled the awkward space over the framed sections of our 1931 stage curtain valance with custom laser-cut lettering. "PARAMOUNT THEATRE", in our distinct lettering font, matching our 150 foot tall vertical sign, and below that the Paramount motto "ALWAYS THE BEST SHOW IN TOWN".

The letters are laser-cut plastic, stacked in two colors, white on red for the PARAMOUNT THEATRE lettering, and matte black on a white border for the motto. They are mounted on short standoffs, so they "float" on the wall surface for a more dimensional look, and cast a nice shadow.

The lettering does not look very large in these photos, but it reads very easily in person. Bear in mind how tall the ceiling is in this room, the motto is 11 feet wide! The relative narrowness of the room to its height does not allow me to stand back for a good straight-on view photograph. You'll just have to see it in person sometime! It just happens that the next person to use the Green Room will be former US president Jimmy Carter, who will be here fundraising for 'Habitat for Humanity'. Now all of the performers and guests who use the Green Room will have something more positive to look at, making a much better impression."