Kayak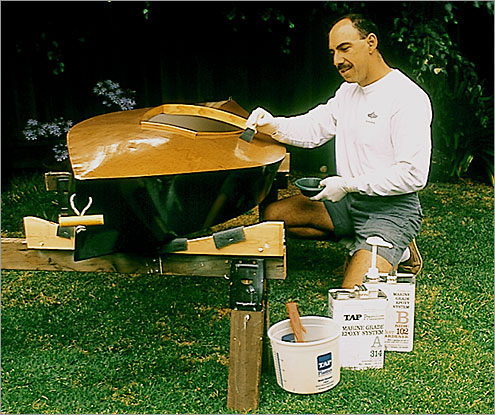 TAP Marine Grade Epoxy is the product of choice when John Tuma builds kayaks. Beginning with the taped seam construction method, he forces an epoxy fillet (thickened with either Cabosil or wood dust) into the interior seams. After hardening, the fillets are smoothed and covered with a length of fiberglass tape set in epoxy.

The kayak was covered with a layer of 4 oz fiberglass cloth set in epoxy. Tuma favors the fast hardener for filleting seams. For wetting out large areas of fiberglass or taping seams, he prefers the slow hardener.

Tuma says he has never had a batch of TAP epoxy fail to cure or a joint fail because of weak glue bonds. He claims the wood always fails first. Tuma builds rowboats, sailboats, kayaks, and canoes, ranging from five to twenty-five feet in length.