Free-Standing Heaters
Our Heating Trays have been exclusively designed to give constant professional bends while working with all types of thermoplastic materials. They are mainly used for straight line bends or folds and are capable of heating up to 1/2" thick material. 120-volt trays come with standard 120-volt pigtail and are ready for operation. Maximum operating temperature is 800ºf. 240 volt. Free-Standing Heater is also available as 4' (FS-48) only.
Note: Power Control AEC-15 cannot be used with 240 volt Free Standing Heater.
SPECIFICATIONS: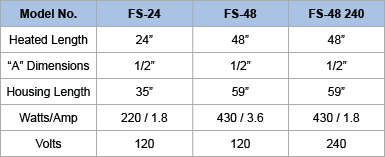 For Free-Standing Heaters product data
click here
.
How to bend plastic