The Novus plastic system removes haziness, discoloration and light to moderate scratches from many plastic and smooth surfaces, and leaves a lustrous shine that resists fogging, repels dust, and eliminates static.
Novus 1 cleans and shines household and industrial plastics and many smooth surfaces:
• CDs, DVDs
• vinyl
• marble
• aquariums
• showers
• game consoles*
• auto interiors
• fiberglass
• sneeze guards
• plastic windows
• cell phone screens*
• helmets/visors
*Note: Novus 1 Cleaner is safe to use on LCD/LED screens and televisions—however, it will leave a shiny "glaze" that may distract from "matte-finish" screen surfaces.
Do not use paper towels when cleaning plastic surfaces, as scratches can result—instead, use TAP's lint-free wipes or micro-fiber towels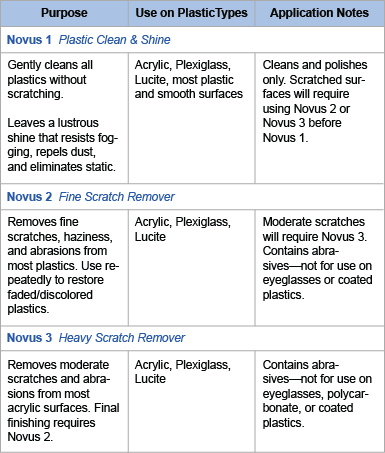 Click here
for Plastic Sheets Care Product Bulletin.
TAP Video: Novus Plastic Polish