Kaleidoscope Kit. Build your own kaleidoscope in minutes with this fun kit. Kit includes basic pieces. Add sparkle tape for extra pizzazz. See our
instructions
for more creative kaleidoscope ideas.
Kit contents:
One 10" long clear acrylic tube (1-1/2" OD)
Three acrylic mirror pieces (9-7/8" long x 15/16" wide)
One acrylic cabochon shape (1-1/2" diameter)
One acrylic disk (1-1/4" diameter)
One 2" long clear acrylic tube (1-3/4" OD)
One clear acrylic circle (2" diameter x 1/8" thickness)
One 1.5oz tube of Weld-on #16 acrylic cement (with micro tip)
Junebug Kaleidoscope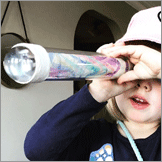 This kaleidoscope from
@junebugmakes
is super cool! We're so glad you tagged us June and mom, thank you for sharing!
Click on this link for how to.