TAP Article: Plastic Storage Ideas
Plastic Storage Ideas

With the hustle and bustle of everyday life, it is not uncommon to feel overwhelmed by clutter and other messes at home. Your home should be a stress-free place where you can rest and relax without worrying about a pile of clothes or shelves filled with disorderly craft supplies. If you want to tackle the issue of organization and storage in every room of your home, TAP Plastics can help. We are always on the lookout for fun and functional ways to incorporate plastic and plastic products. This list of plastic storage ideas includes plenty of inspiration to help you get started!

In the Bathroom
Even if you're not a morning person, a clean bathroom can make the start of each day so much more enjoyable. Plus, keeping a tidy bathroom can make your morning routine run smoothly. There is a wide range of plastic items and products you can use to organize your bathroom essentials and create a spa-like retreat. Our clear acrylic organizers feature two individual compartments for storing cotton balls and swabs separately. We also offer a plastic storage container that comes fully equipped with adjustable dividers, so you can organize hair accessories, makeup, and more.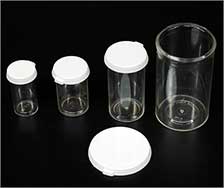 Keep on top of taking your vitamins and minerals by using a clear plastic round pillbox. You can also keep prescription medications safe in one of our polypropylene vials, polystyrene vials, HDPE jars, or hinged containers. Getting ready to go on vacation or traveling out of town on business? Plastic travel toothbrushes are protected within their own colorful cases and will take up barely any space in your carry on or luggage.

In the Bedroom
Whether you are decluttering the nursery or tackling your own messy bedroom, there are a wide variety of ways in which you can put plastic to the test. Over time, everyone collects a lot of fashion accessories that rarely see the light of day. With cut-to-size plexiglass panels, you can build a modular storage system and establish a designated place for shirts, jeans, hats, and other accessories you're not ready to donate or throw away.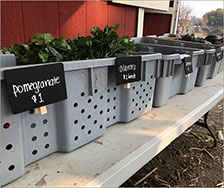 In the Kitchen
Plastics are a part of our everyday lives. When it comes to decluttering your kitchen and maintaining a tidy cooking space, plastic offers many advantages over other materials. You can turn any of your clear or colored plastic bins into adorable utensil holders. Simply give the bins a quick coat of primer to help the paint adhere to the plastic. Paint the bins with acrylic paint. You may need to apply several coats to achieve your desired look, allowing them to dry an hour or so between coats. You can create your own decorative labels to differentiate baking, cooking, and serving utensils.

Tired of discovering a messy pantry after the kids return home from school? Acrylic sheet with a matte black finish and chalkboard materials may share a similar appearance, but ACRYLITE sheet is much easier to customize. You can easily create food bin labels by cutting the matte black acrylic sheet to size. Sand the edges and soften the corners to make adorable, handwritten signage for food baskets, snack bins, and other containers.

With a little experimentation, you can make colorful food double as decorative elements throughout your kitchen. Candy bins will immediately add a bit of color and variety to the heart of your home. If you find yourself reaching for an afternoon snack every day, our food-grade plastic candy bins will be of service to you on the corner of your work desk.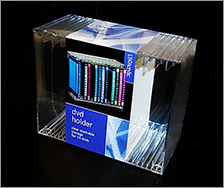 In the Living Room
Plastic display cases are great for anyone who collects odds and ends or vintage items. Whether you are a big sports fan who collects ticket stubs or a theater fan who collects playbills, a durable acrylic ticket display case will protect any memento for many years. Clear acrylic shelving is ideal for any space where storage is severely limited. Our acrylic shelves can be used to hold books, picture frames, small plants, and other knick-knacks.

We offer a wide selection of plastic organizers that can help you keep every room in the house neat and tidy. Our CD holder is made of clear acrylic and stores more than 30 CDs. If you have a massive music collection, you can stack these CD units to create extra storage space. We also supply DVD holders that can store up to 14 DVDs at a time. These crystal-clear display cases will make it much easier to find a specific title for movie night with the entire family and the perfect soundtrack for a romantic dinner just for two.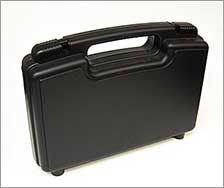 In the Office or Den
It is perfectly normal to feel flustered when mountains of paperwork keep piling up. Plastic storage containers are great for storing documents and other papers you might need to reference at a later time. You can also use them for storing gift wrapping materials, files, and school supplies. Keep tools and other gadgets neat and orderly in a plastic tool box or tradesman case. A small plastic gear box is perfect for fishermen or DIY mechanics. Our plastic desk organizers feature six open compartments for storing pens, notepads, paper clips, and other office supplies. You can even transform one of our plastic desk organizers into a stylish storage solution for makeup brushes and beauty supplies.

With these plastic storage ideas to guide you, you can easily organize your home in a way that suits your particular set of needs. With over 60 years of experience in the wholesale distribution of plastics, we can certainly help you find the perfect material for your project. Please feel free to contact us with any questions, concerns, or special requests.