Multiwall Polycarbonate Sheet
TAP Plastics is proud to offer Twinwall polycarbonate sheets and panels available at our store locations. This product has properties that make it an excellent choice for architectural applications. Double layered polycarbonate sheets (called TwinWall or MultiWall and sometimes spelled Twin-Wall or Twin Wall) are produced in a variety of colors and levels of transparency, developed for use in most standard roofing and glazing applications.
Twinwall is Energy Saving - the thermal insulation is more necessary in applications in which there is a significant discrepancy between indoor and outdoor air temperatures. If the application is a roof over an open air structure such as a patio roof or bus stop then the thermal insulation is a non-issue. The value of thermal insulation is best seen in closed structures such as sunrooms, roofing over indoor swimming pools, and commonly used in green houses: in these closed wall applications multi-wall polycarbonate provides excellent thermal insulation.
Twinwall Polycarbonate is most successfully used with common building and glazing construction materials but it is important to test any chemicals that will come in contact with the plastic. The Chemical resistance of polycarbonate can be quickly broken down if untested or incompatible chemicals come into contact then cracks and warping can quickly appear as the chemical destroys the plastic.
Unique Benefits of Twinwall Panels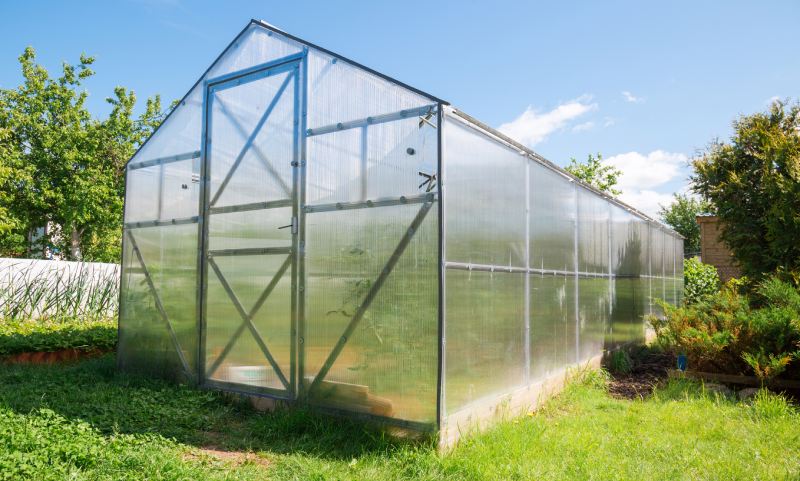 Lightweight: Just 1/8 the weight of glass and much lighter than solid panels
Highly Flexible: Twinwall plastic panels can be cold formed to many bending radii and can be fabricated on site to precise dimensions.
Virtually Unbreakable: Able to stand extreme abuse, its impact strength is 200 times greater than glass and 10 times greater than acrylic. Superior structural durability, and impact resistance.
Saves Energy: The Twinwall construction gives excellent thermal insulating values while blocking UV transmission and weather. Twinwall plastic sheeting has excellent insulation properties.
Home Improvement: For easy do-it-yourself projects like window replacements, shower enclosures, greenhouses, partitions, light covers, patio covers, carports, windbreaks and even chicken coops. Easy to handle and install with a high fire performance rating.
Horticultural: For greenhouse coverings where good thermal insulation is necessary together with high light transmission.
Architectural Glazing: Can be cold-formed, offering architects design freedom on site.
Twinwall panels are self-supporting and do not require extensive structural support.
Twinwall Specifications
Colors: Clear, White Opal, Bronze
Color: clear
Thickness: 8 mm (.310 inch)
Sizes: 4' x 8', 4' x 10', 4' x 12'
Color: white opal
Thickness: 8 mm (.310 inch)
Sizes: 4' x 8', 4' x 10', 4' x 12'
Color: bronze
Thickness: 8 mm (.310 inch)
Size: 4' x 8', 4' x 12'
Plastic Sheet Glazing System consists of an end cap, and a glazing and clamping bar. Designed for easy installation and diverse weather exposure, these are also available at TAP store locations.
Glazing and Clamping Bar: 8', 10', 12'
End Cap: 16'
Other Accessories: Foil tape, and vent tape.
Translucent Properties Are Excellent for Polycarbonate Privacy Screens and Fences
Clear Twinwall polycarbonate panels are technically translucent, meaning they let through light but are only semi transparent, obscuring shapes or details. This makes multiwall polycarbonate an excellent choice to use for a polycarbonate privacy screen or fence.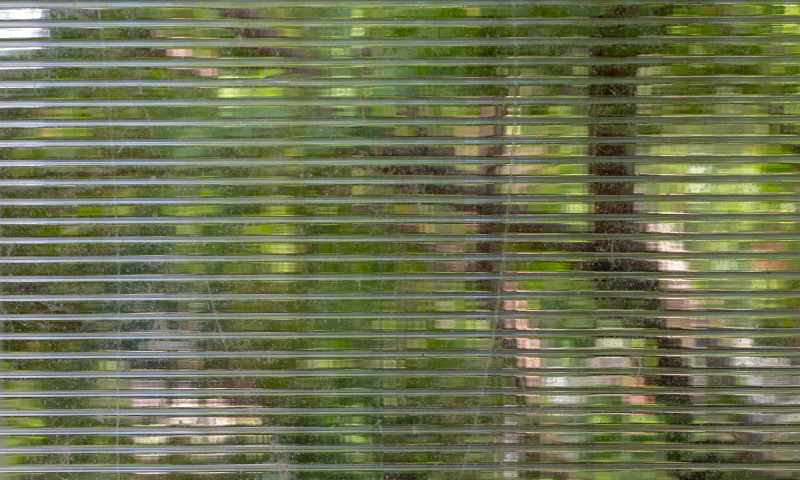 How to Install Twinwall Plastic Sheets
Step 1 – Place the sheets with the side protected by the printed film upwards.
Step 2 – Slide the base connecting profile underneath the sheet flank and use self drilling screws to anchor them to the structure
Step 3 –Position the connecting profile cap in place. For a Polycarbonate Connection Profiles with a shock absorbing support under the sheet, use a rubber mallet to connect it to the base. For Aluminum Glazing Systems, anchor the Cap Profile to the Base Profile with a applicable screws.
Step 4 Continue to add sheets, and profiles until reaching the end of the building. After completing installation, remove all the printed protective film from the sheets.
Finish and Fixing Reinforcements
Place fixing screws with fixing gaskets only in the support frame lines.
Do not over-tighten screws.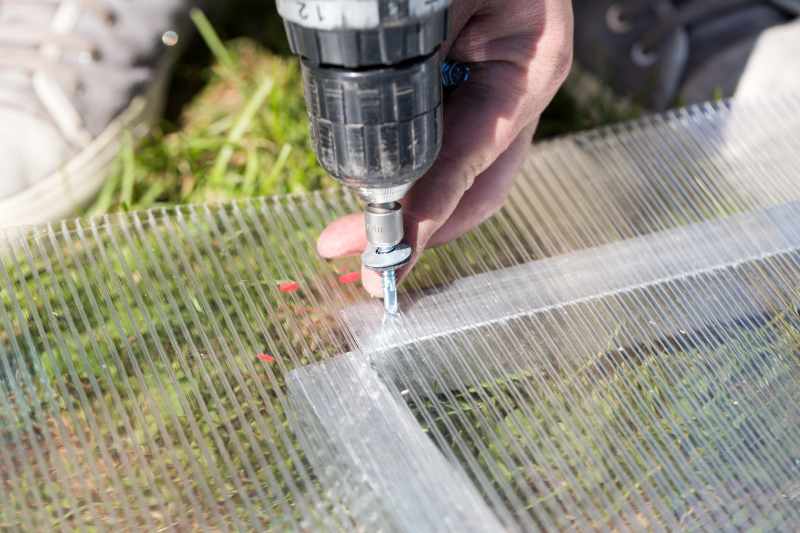 How To Clean Twinwall Polycarbonate Sheets
Your plastic panels will have a longer life with routine cleaning.
Rinse sheet with water
Use warm soapy (mild liquid dish soap) water to clean sheets. If any dirt remains, gently wipe off with a soft cloth.
Apply final rinse and dry with a soft cloth, if possible, to prevent water spots.
Do not use sponges, brushes or anything abrasive or sharp as this could damage the UV resistant coating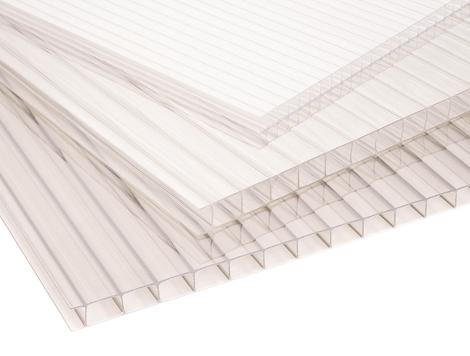 How To Cut Twinwall Plastic Sheets
Twinwall sheets can be cut easily and accurately with standard workshop equipment. This includes standard circular, jig, or table saw with a blade having 8-12 teeth per inch. Saw dust should be blown out of the channels using clean compressed air. Circular saws should have fine-toothed panel blades. Thinner gauges can be cut with a sharp knife.
Drilling - Holes can be drilled by a power drill using standard high speed steel twist drills or drills with an angular wedged bit. When drilling, support should be given immediately beneath the drill to avoid vibration. Very clean holes are easily obtained.

Trimming – standard box cutting knife.