Polyethylene Jacketed High-Performance Plastic Optical Fiber. 1/8" outer diameter. General purpose, jacketed multi-fiber bundle for sensor application. Sold by the foot.
Structure
Core Material: Polymethyl-Methacrylate Resin
Cladding Material: Fluorinated Polymer
Core Refractive Index: 1.49
Refractive Index Profile: Step-index
Numerical Aperture: .50
Number of Fibers: 64
Sectional View: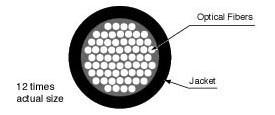 Click Here
for Fiber Optics Data Sheet.
UPS Oversize Fee: UPS applies the fee to any package exceeding 48" however, they require a minimum of 2" around the product to reduce any possible damages.