Make dividers and barriers using Lexan Clips and 3/16" cut to size acrylic. You will need two clips for each join. Maximum panel length is 48" Maximum panel height is 24". Corners can be rounded upon request. Panels may be cleaned with a diluted bleach solution.
To order the correct size acrylic for table dividers, measure the distance needed subtract 1/2" for the clip then divide that number in half.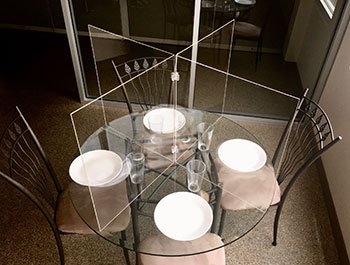 This lunchroom table barrier shown is made with 4 panels of 3/16" clear acrylic and 2 4-way lexan clips. The round table is 42" diameter so the panels were cut to 20.5" in length and 24" tall.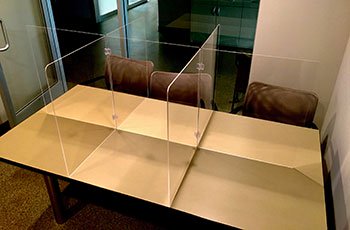 This table partition is made with 7 panels 3/16" clear acrylic and four 4-way lexan clips. The table is 72" x 36". The three center panels are 23.5" x 24". The four divider panels are 17" x 24". The configurations is good for conference room tables and cafeterias.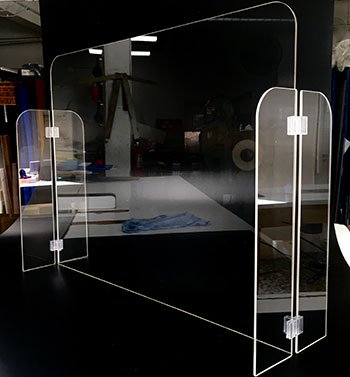 This sneeze guard is made using a 24" x 40" panel of 3/16" clear acrylic and four 3-way lexan clips. There are four side pieces, 40" x 2" each, two rear and two front, to ensure the guard will not tip over.
The 4-way clips fit tightly on the 3/16" thick clear acrylic plastic so a little bit of persuasion is required to slide them on.