The "Acryl-Hinge 2" is a strong, optically-clear hinge that is designed to glue to acrylic sheet. The large cementing areas feature Micro Dots™ on the surface for perfect bonds when using acrylic cement.
Reinforcing ribs
Durable, self-lubricating transparent pin
Colors: clear, white, black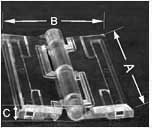 Dimensions:
| | | |
| --- | --- | --- |
| A | B | C (bottom of hinge to top of barrel) |
| 1.75" | 1.5" | .30" |
Note: There are two basic ways that a plastic hinge is installed: either "wrapped" around a 90° corner, or "flat".
Wrapped Install
For WRAPPED INSTALLS, the Acryl-Hinge 2 will work on acrylic sheet thicknesses of up to ¼".
For sheet thicknesses greater than ¼", the edges of the sheets must be beveled 45° to accommodate the hinge.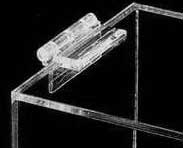 Flat Install

For FLAT INSTALLS, the Acryl-Hinge 2 will work on most acrylic sheet thicknesses without modification.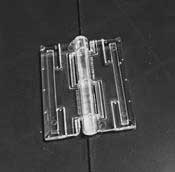 TAP Video: Acrylic Hinges