Edge-Guard is a pre-glued, flexible plastic trim with a mylar cover. It gives a beautiful, finished appearance. Just push it on and it's done.
Many Applications:
• Car Door Edges
• Running Boards
• Car Door Visors
• Fender Flares
• and many others.
5/16" Edge Guard fits over edges up to 1/8" thick. Comes in chrome, gold and black.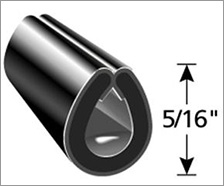 WARNING: This product contains chemical known to the State of California to cause cancer or birth defects, or other reproductive harm (California law requires this warning be given to customers in the State of California)
UPS applies the fee to any package exceeding 48" however, they require a minimum of 2" around the product to reduce any possible damages.